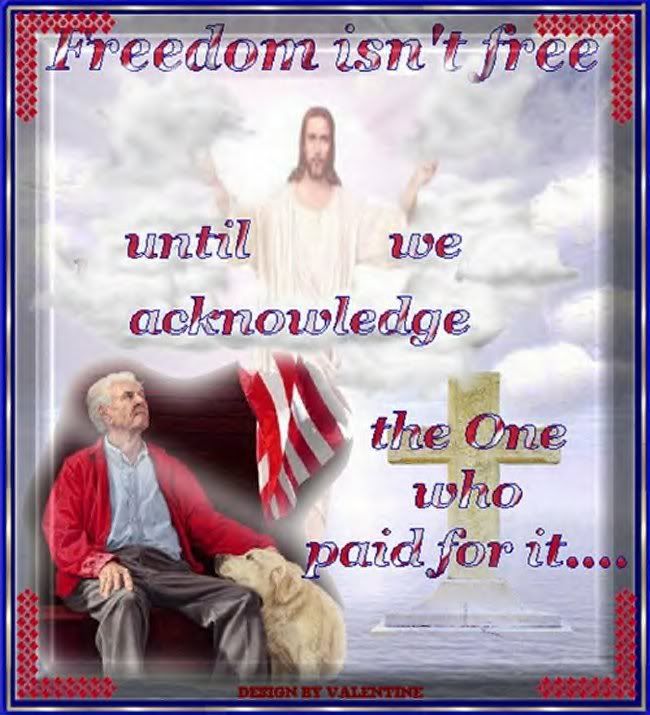 Their last names both end with " in "
My prayer to God is this team will win
They both have our best interest at heart
To bring America back to it's roots from the start
They both believe that abortion is wrong
"Thou shalt not kill" was God's plan all along
He even sacrificed His own Son to bring us life
Yet in three days God made Him to rise
America was founded on God's living word
But some are neglecting the message first heard They're trying to remove God's laws and plan
That from the beginning of creation was for all man
They're replacing God's plan with immoral laws Things that are an abomination and sin to cause
His word says a house divided will not stand
God will not bless a nation that changes His plan
All the liberal thinkers want to gain popularity
By exalting sin Our Nation they're corrupting
Does man not see by removing God what's been done?
In years past did we hear of children with guns?
It doesn't take a mental giant to figure out
By removing God's laws evil's released to roam about
You know in your hearts that evil is gaining ground
Let those that have eyes and ears hear and look around
God warned of His word being up for debate and discussion
But not one jot or tittle is to be removed take caution
For it is His word that is the uncorruptible seed
And for a blessed nation His laws is what we need
This message I share is from the Holy Spirit
I'm ordained of God not man for you to hear it
For like in days of old no certification was needed
It was word breathed from God the apostles heeded
So for a time such as this I am God's voice
Crying out in the wilderness of man's choice
As in Noah's day so shall it be again
God will not be mocked or His sovereignty
He's calling all mankind to repent and sin refuse
He's offering life or death which one will you choose This once sovereign nation founded on His word Needs to consider the results if His voice is not heard
For we are either for God or we're against Him
We are to love righteousness and hate evil and sin Our thoughts are to line up only with His word
I pray thee to bind up the evils on this earth
The pulpits in Our Nation are coming under attack Trying to muffle God's word only evil doth it attract God has called me to be bold in these last days
For His hand will be removed if His people don't humble themselves and pray
Just Received in email a must share...
ONE MINUTE EACH NIGHT....(Or More)
This is the scariest election we as

Christians


have ever faced. From the looks of the polls, the
Christians aren't voting

Christian values

. We all
need to be on our knees. Do you believe we can take
God at His word? Call upon His name, then stand
back and watch His wonders to behold. His scripture
gives us, as Christians, ownership of this land and
the ability to call upon God to heal it. I
challenge you to do so. We have never been more
desperate than now for God to heal our land.

2 Chronicles 7:14 :
If my people, which are called by my name shall
humble themselves, and pray, and seek my face and
turn from their wicked ways, then will I hear from
heaven, and will forgive their sin, and will heal
their land.

During WWII, there was an advisor to Churchill
who organized a group of people who dropped what
they were doing every night at a prescribed hour for
one minute to collectively pray for the safety of


England

, its people and peace. This had an amazing
effect as bombing stopped.
There is now a group of people organizing the
same thing here in America .


The United States of America

and our citizens
need prayer more than ever!!

If you would like to participate: each evening
at 9:00 PM Eastern Time, 8:00 PM Central, 7:00 PM
Mountain, 6:00 PM Pacific, stop whatever you are
doing and spend one minute praying for the safety of
the United States , our troops, our citizens, for
peace in the world, for wisdom and courage for our
leaders, the up-coming election, and that the Bible
will remain the basis for the laws governing our
land and that Christianity will grow in the U.S.

If you know anyone who would like to
participate, please pass this along. Someone said
if people really understood the full extent of the
power we have available through prayer, we might be
speechless. Our prayers are the most powerful asset
we have. Thank You.
Please pass this onto anyone who you think will
want to join us. God Bless You!!!
By ;Pastor Linda Begley Holy Spirit given
(2Peter 1:20,21)
20.Knowing this first, that no prophecy of the scripture is of any private interpretation.
21.For the prophecy came not in old time by the will of man: but holy men of God spake as they were moved by the Holy Ghost.
Also fail not to pray for Israel!
9-6-2008
Prov.13:34-35
34.Righteousness exalteth a nation: but sin is a reproach to any people.
35.The king's favour is toward a wise servant: but his wrath is against him that causeth shame.
2 Chron.7:14 If my people, which are called by my name, shall humble themselves, and pray, and seek my face, and turn from their wicked ways; then will I hear from heaven, and will forgive their sin, and will heal their land.
James 1:25 But whoso looketh into the perfect law of liberty, and continueth therein, he being not a forgetful hearer, but a doer of the work, this man shall be blessed in his deed.
John 12:48 He that rejecteth me, and receiveth not my words, hath one that judgeth him: the word that I have spoken, the same shall judge him in the last day
Heb.4:12 For the word of God is quick, and powerful, and sharper than any twoedged sword, piercing even to the dividing asunder of soul and spirit, and of the joints and marrow, and is a discerner of the thoughts and intents of the heart.
1Peter 1:23 Being born again, not of corruptible seed, but of incorruptible, by the word of God, which liveth and abideth for ever.