~SEEK GOD'S FACE ~
Seek God's Face
Hello Everyone, I pray today's word will manifest into your spirit to light you up to seek God's face daily in your life and be encouraged to do His will and in return receive the blessings and favor He has for you. God laid this first scripture on my heart in 2007, it seemed to play often in my memory of the importance of OUR prayers. I want you to emphasize on the first word of this scripture "IF" and it is IF we do what this scripture says.
2 Chronicles 7:14-17
14 If my people, which are called by my name, shall humble themselves, and pray, and seek my face, and turn from their wicked ways; then will I hear from heaven, and will forgive their sin, and will heal their land.
15 Now mine eyes shall be open, and mine ears attent unto the prayer that is made in this place.
16 For now have I chosen and sanctified this house, that my name may be there for ever: and mine eyes and mine heart shall be there perpetually.
17 And as for thee, if thou wilt walk before me, as David thy father walked, and do according to all that I have commanded thee, and shalt observe my statutes and my judgments;
We need to seek His vision of us and become more like Him. Let us pray to be more like Him in our words, our actions, and our daily walk. Let us be on a divine purpose as He had intended from the foundation of the earth. The parable of the man that was given a talent and he buried it was called wicked because he didn't use his talent to maximize it. God has called each one and given them a talent that He is waiting for us to put into motion that He can put His super with our natural to anoint whatsoever He has purposed for our life. Seek God's face, humble yourself in prayer and fasting that God will exalt you in His time. The following is scriptures in His Word that pertain to seeking Him.
2Chron.15:2 And he went out to meet Asa, and said unto him, Hear ye me, Asa, and all Judah and Benjamin; The LORD is with you, while ye be with him; and if ye seek him, he will be found of you; but if ye forsake him, he will forsake you.
Hosea 10:12 Sow to yourselves in righteousness, reap in mercy; break up your fallow ground: for it is time to seek the LORD, till he come and rain righteousness upon you.
Heb.11:6 But without faith it is impossible to please him: for he that cometh to God must believe that he is, and that he is a rewarder of them that diligently seek him.
Acts.17:27 That they should seek the Lord, if haply they might feel after him, and find him, though he be not far from every one of us:
Lamentations 3:25 The LORD is good unto them that wait for him, to the soul that seeketh him.
Amos 5 :

4

For thus saith the LORD unto the house of Israel, Seek ye me, and ye shall live:
Deut 4: 29 But if from thence thou shalt seek the LORD thy God, thou shalt find him, if thou seek him with all thy heart and with all thy soul.
Ezra 8:22 For I was ashamed to require of the king a band of soldiers and horsemen to help us against the enemy in the way: because we had spoken unto the king, saying, The hand of our God is upon all them for good that seek him; but his power and his wrath is against all them that forsake him.
Here is a scripture that is so very important to take heed to, That we all seek God's Will, God knows our every thought, so think upon good things for what we think we will eventually speak, and it is when we speak them that we put our words into action and if it is negative the devil will grab them to use against you as God does in positive and prayer words.
1Chron.28:9 And thou, Solomon my son, know thou the God of thy father, and serve him with a perfect heart and with a willing mind: for the LORD searcheth all hearts, and understandeth all the imaginations of the thoughts: if thou seek him, he will be found of thee; but if thou forsake him, he will cast thee off for ever.
Job 8:5-6
5. If thou wouldest seek unto God betimes, and make thy supplication to the Almighty;
6 If thou wert pure and upright; surely now he would awake for thee, and make the habitation of thy righteousness prosperous.
Psalm 9:10 And they that know thy name will put their trust in thee: for thou, LORD, hast not forsaken them that seek thee.
Jeremiah 29:13 And ye shall seek me, and find me, when ye shall search for me with all your heart.
I want us to camp out on these scriptures 2 Chron.7:14 and Jeremiah 29:13 Meditate on these.He wants us to pray, and to humble ourselves and to seek Him with all our heart.
In the natural, in our daily lives, Can we not say that when we take upon a task and do it wholeheartedly that we are satisfied knowing we gave it our all and 9 times out of 10 giving our all in something that it turns out good too. But...if we give our all,OUR will to God,then His promises are ya and amen and it will be 10 out of 10 that we are pleasing God and blessings and favor will come. We have a destiny and it is up to us to fulfill it and map it out and the best map is the original owners manual for mankind, God's living word, that brings life and blessings to all that will follow the directions that He has given us for our life. I remind you all that since the beginning God gave us Dominion and authority, and it is thru the guidance of His word that will bring us power to do all things. Throughout all these scriptures I shared it is plain to see that we must do our part before God can bring restoration in our life and in our world. Our faith CAN change our circumstances and the world!
Matt.9:29 Then touched he their eyes, saying, According to your faith be it unto you.
I was gonna give you just a few scriptures in Psalm 27 but I enjoyed the whole chapter so much I wanted to share all of it's contents. I love the word of God!!
Psalm 27:
1 The LORD is my light and my salvation; whom shall I fear? the LORD is the strength of my life; of whom shall I be afraid?
2 When the wicked, even mine enemies and my foes, came upon me to eat up my flesh, they stumbled and fell.
3 Though an host should encamp against me, my heart shall not fear: though war should rise against me, in this will I be confident.
4 One thing have I desired of the LORD, that will I seek after; that I may dwell in the house of the LORD all the days of my life, to behold the beauty of the LORD, and to enquire in his temple.
5 For in the time of trouble he shall hide me in his pavilion: in the secret of his tabernacle shall he hide me; he shall set me up upon a rock.
6 And now shall mine head be lifted up above mine enemies round about me: therefore will I offer in his tabernacle sacrifices of joy; I will sing, yea, I will sing praises unto the LORD.
7 Hear, O LORD, when I cry with my voice: have mercy also upon me, and answer me.
8 When thou saidst, Seek ye my face; my heart said unto thee, Thy face, LORD, will I seek.
9 Hide not thy face far from me; put not thy servant away in anger: thou hast been my help; leave me not, neither forsake me, O God of my salvation.
10 When my father and my mother forsake me, then the LORD will take me up.
11 Teach me thy way, O LORD, and lead me in a plain path, because of mine enemies.
12 Deliver me not over unto the will of mine enemies: for false witnesses are risen up against me, and such as breathe out cruelty.
13 I had fainted, unless I had believed to see the goodness of the LORD in the land of the living.
14 Wait on the LORD: be of good courage, and he shall strengthen thine heart: wait, I say, on the LORD.
Praises be to His name and Glory forever and ever!! I love the word of God and the inheritance that he has promised all that love Him. What an awesome God we serve!!
Have a blessed week and if the Lord tarries I will share more soon. Hugs and love and a special prayer I want to share...
Prayer is one of the best free gifts we receive, there is no
cost but a lot of reward. Make sure you pray, and PRAY
believing that God will answer. May today be all that
you need it to be. May the peace of God and the
freshness of the Holy Spirit rest in your thoughts,
rule in your dreams tonight and conquer all your
fears. May God manifest himself today in ways that you
have never experienced. May your joys be fulfilled,
your dreams be closer and your prayers be answered. I
pray that faith enters a new height for you; I pray
that your territory is enlarged and I pray that you
step into your destiny within your ministry. I pray
for peace, health, happiness and true and undying love
for God. In Jesus name I pray....amen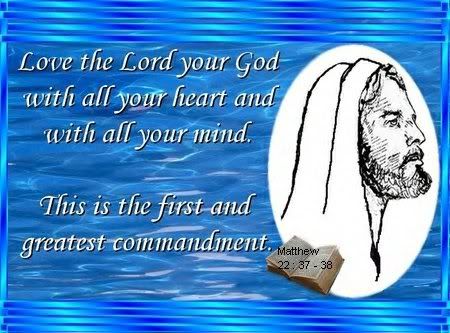 Lovingly In Christ; Pastor Linda Begley