"Ye Shall Know The Truth"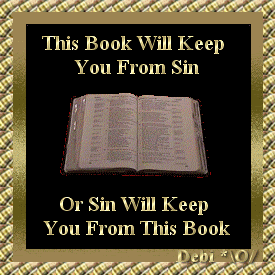 John 8:32 And ye shall know the truth, and the truth shall make you free.
Hosea 4:

6

My people are destroyed for lack of knowledge: because thou hast rejected knowledge, I will also reject thee, that thou shalt be no priest to me: seeing thou hast forgotten the law of thy God, I will also forget thy children.
Hello Friends, These 2 primary verses is the verses given to me for my ministry when the Lord called upon me to preach the word. As time passes I can see why these 2 verses are the very foundation as to build upon!
I pray this finds you all doing well and trusting in the Lord. I have had a new burden put on my heart this week in re of all the false teachings that seem to be flooding the minds of those that aren't rooted and grounded
IN GOD'S WORD.
We are living in the last chapters my friends and it is no time to be allowing ourselves to be deceived and not seeking out God's truthes. There are many that think they are doing the right thing and going the right way,but their lives are in no way producing fruit. There is ONLY ONE WAY and that is through Christ Jesus that we can receive salvation. There's still people praying to other gods. Only by praying to the Father in Jesus name and then Jesus is our mediator.No man comes to the Father but by me , Jesus said in John 3:
16 For God so loved the world, that he gave his only begotten Son, that whosoever believeth in him should not perish, but have everlasting life.
17 For God sent not his Son into the world to condemn the world; but that the world through him might be saved.
18 He that believeth on him is not condemned: but he that believeth not is condemned already, because he hath not believed in the name of the only begotten Son of God.
19 And this is the condemnation, that light is come into the world, and men loved darkness rather than light, because their deeds were evil.
20 For every one that doeth evil hateth the light, neither cometh to the light, lest his deeds should be reproved.
21 But he that doeth truth cometh to the light, that his deeds may be made manifest, that they are wrought in God.
I tell you friends,there is only one way !! Jesus is the way,the truth and the life!! Eternal life is through him ONLY. You can't be listening to all these false doctrines, some as old as any of us can recall and take short cuts and expect to have eternal life with Christ our Savior. Some people just say the salvation prayer and go on about their way ,continuing to conform to this world and not renewing their mind to His teachings.Not growing in their love walk,not caring to bring others unto the knowledge and truth. We are to die out for Jesus. We are to give Him our will,and HIS will be done in our lives. It's got to be an increase of Him and less of us,that we become the light of the world as He has called us to be. Some people think that if they don't have a carved image of something that they are not worshipping false idols but the truth is, ANYTHING....that you put above and taking time away from having fellowship with Jesus on a daily basis is considered idolatry. Oh and the devil makes sure to come up with new things each passing year to detour our thoughts and lives away from Christ cause the devil is trying to fill Hell while Jesus came to give us eternal life. This time on earth is but a vapor compared to eternal life with Jesus but people would rather do their thing now,live their life the way they want with no holds barred and adding to the corruption in our society than to repent and turn from their wicked ways,God will not be mocked!!! Whatsoever a man soweth that shall he reap. Jesus said; My sheep hear my voice, and I know them, and they follow me:
How many people call themselves christians but don't give Jesus the time of day,let alone actually follow Him?? They never feed the spirit man with the word of God. Which in starving Him,they are spiritually anorexic and not feeding on the word daily to build up their faith to be able to be led by the Holy Spirit,To be able to worship in spirit and in truth as the word says. John 4:24
21 Jesus saith unto her, Woman, believe me, the hour cometh, when ye shall neither in this mountain, nor yet at Jerusalem, worship the Father.
22 Ye worship ye know not what: we know what we worship: for salvation is of the Jews.
23 But the hour cometh, and now is, when the true worshippers shall worship the Father in spirit and in truth: for the Father seeketh such to worship him.
24 God is a Spirit: and they that worship him must worship him in spirit and in truth.
John 10:
25 Jesus answered them, I told you, and ye believed not: the works that I do in my Father's name, they bear witness of me.
26 But ye believe not, because ye are not of my sheep, as I said unto you.
27 My sheep hear my voice, and I know them, and they follow me:
28 And I give unto them eternal life; and they shall never perish, neither shall any man pluck them out of my hand.
29 My Father, which gave them me, is greater than all; and no man is able to pluck them out of my Father's hand.
30 I and my Father are one.
John 10:
1 Verily, verily, I say unto you, He that entereth not by the door into the sheepfold, but climbeth up some other way, the same is a thief and a robber.
2 But he that entereth in by the door is the shepherd of the sheep.
3 To him the porter openeth; and the sheep hear his voice: and he calleth his own sheep by name, and leadeth them out.
4 And when he putteth forth his own sheep, he goeth before them, and the sheep follow him: for they know his voice.
5 And a stranger will they not follow, but will flee from him: for they know not the voice of strangers.
6 This parable spake Jesus unto them: but they understood not what things they were which he spake unto them.
7 Then said Jesus unto them again, Verily, verily, I say unto you, I am the door of the sheep.
8 All that ever came before me are thieves and robbers: but the sheep did not hear them.
9 I am the door: by me if any man enter in, he shall be saved, and shall go in and out, and find pasture.
10 The thief cometh not, but for to steal, and to kill, and to destroy: I am come that they might have life, and that they might have it more abundantly.
11 I am the good shepherd: the good shepherd giveth his life for the sheep.
The New Age Teachings is a lie from the father of lies! It is a short cut! It is causing those that go by it to be puffed up themselves,and exalt themselves instead of becoming less of themselves and more of Jesus. Exalting and glorifying God should be our heart's desire. Not what about... I, Me ,My!!! Feeding garbage into our lives from the secular world,and expecting something good to come from it??
There is some religions that don't even know what the word " born again " is. Yet the bible states in John 3:3 Jesus answered and said unto him, Verily, verily, I say unto thee, Except a man be born again, he cannot see the kingdom of God.
This is not as a baby having water sprinkled on your head. That is dedication that parents seeked. But to receive salvation you must rent of your sins,can a baby do that? Some teachers are saying that ye need not be baptized. I submit to you then why is it that Jesus ...Himself was and upon doing so the Holy Spirit came upon Him and God said: This is my Son in whom I'm well pleased.
Matt.28:19-20
19.Go ye therefore, and teach all nations, baptizing them in the name of the Father, and of the Son, and of the Holy Ghost:
20.Teaching them to observe all things whatsoever I have commanded you: and, lo, I am with you always, even unto the end of the world. Amen.
John 3:
4 Nicodemus saith unto him, How can a man be born when he is old? can he enter the second time into his mother's womb, and be born?
5 Jesus answered, Verily, verily, I say unto thee, Except a man be born of water and of the Spirit, he cannot enter into the kingdom of God.
6 That which is born of the flesh is flesh; and that which is born of the Spirit is spirit.
The bottom line we are to work out our own salvation and there can't be short cuts! We must feed on the word daily, faith come by hearing and hearing by the word of God.
1 Brethren, my heart's desire and prayer to God for Israel is, that they might be saved.
2 For I bear them record that they have a zeal of God, but not according to knowledge.
3 For they being ignorant of God's righteousness, and going about to establish their own righteousness, have not submitted themselves unto the righteousness of God.
4 For Christ is the end of the law for righteousness to every one that believeth.
5 For Moses describeth the righteousness which is of the law, That the man which doeth those things shall live by them.
6 But the righteousness which is of faith speaketh on this wise, Say not in thine heart, Who shall ascend into heaven? (that is, to bring Christ down from above:)
7 Or, Who shall descend into the deep? (that is, to bring up Christ again from the dead.)
8 But what saith it? The word is nigh thee, even in thy mouth, and in thy heart: that is, the word of faith, which we preach;
9 That if thou shalt confess with thy mouth the Lord Jesus, and shalt believe in thine heart that God hath raised him from the dead, thou shalt be saved.
10 For with the heart man believeth unto righteousness; and with the mouth confession is made unto salvation.
11 For the scripture saith, Whosoever believeth on him shall not be ashamed.
12 For there is no difference between the Jew and the Greek: for the same Lord over all is rich unto all that call upon him.
13 For whosoever shall call upon the name of the Lord shall be saved.
14 How then shall they call on him in whom they have not believed? and how shall they believe in him of whom they have not heard? and how shall they hear without a preacher?
15 And how shall they preach, except they be sent? as it is written, How beautiful are the feet of them that preach the gospel of peace, and bring glad tidings of good things!
16 But they have not all obeyed the gospel. For Esaias saith, Lord, who hath believed our report?
17 So then faith cometh by hearing, and hearing by the word of God.
18 But I say, Have they not heard? Yes verily, their sound went into all the earth, and their words unto the ends of the world.
19 But I say, Did not Israel know? First Moses saith, I will provoke you to jealousy by them that are no people, and by a foolish nation I will anger you.
20 But Esaias is very bold, and saith, I was found of them that sought me not; I was made manifest unto them that asked not after me.
21 But to Israel he saith, All day long I have stretched forth my hands unto a disobedient and gainsaying people.
Romans 1:17,Gal.3:11,Heb.10:38
" THE JUST SHALL LIVE BY FAITH "
If the JUST shall LIVE by Faith and Faith cometh by hearing the word of God,then how can faith grow to LIVE by and be justified if the word is not read,and the spiritual man not fed?
Rom.1:17 For therein is the righteousness of God revealed from faith to faith: as it is written, The just shall live by faith
Gal.3:11 But that no man is justified by the law in the sight of God, it is evident: for, The just shall live by faith.

Heb.10:38 Now the just shall live by faith: but if any man draw back, my soul shall have no pleasure in him.
We owe so much to the people of Israel. If it weren't for them we gentiles would not have had the chance of salvation and the adoption into God's family. We must pray for them , for God will bless those who bless them and curse those who curse them.
Soon the gentiles will be cut off and it is SOON, that the jews may have their eyes opened to the salvation gift of the Lord.
James 5:
16 Confess your faults one to another, and pray one for another, that ye may be healed. The effectual fervent prayer of a righteous man availeth much .
While we're on this subject of confess ...
Matt.23:9
9.And call no man your father upon the earth: for one is your Father, which is in heaven.
So people,we can't be luke warm,saying we are christians and not doing anything to further the Kingdom of God. Let's look in James 4 :
James 4
1 From whence come wars and fightings among you? come they not hence, even of your lusts that war in your members?
2 Ye lust, and have not: ye kill, and desire to have, and cannot obtain: ye fight and war, yet ye have not, because ye ask not.
3 Ye ask, and receive not, because ye ask amiss, that ye may consume it upon your lusts.
4 Ye adulterers and adulteresses, know ye not that the friendship of the world is enmity with God? whosoever therefore will be a friend of the world is the enemy of God.
(the word adulterers here is those sinning against God to do their own thing)
5 Do ye think that the scripture saith in vain, The spirit that dwelleth in us lusteth to envy?
6 But he giveth more grace. Wherefore he saith, God resisteth the proud, but giveth grace unto the humble.
7 Submit yourselves therefore to God. Resist the devil, and he will flee from you.
8 Draw nigh to God, and he will draw nigh to you. Cleanse your hands, ye sinners; and purify your hearts, ye double minded.

Oh how the sweet the presence of the Lord is,
he truly will fellowship with you and comfort you.
But God wants to be first in your EVERYDAY life!
Not just on Sunday or perhaps not even then.
Make Him Lord of your life and see the goodness of Him that is shown to those that love Him.
Have a wonderful week in the Lord.
Lovingly In Christ and In His Service;
Pastor Linda Begley