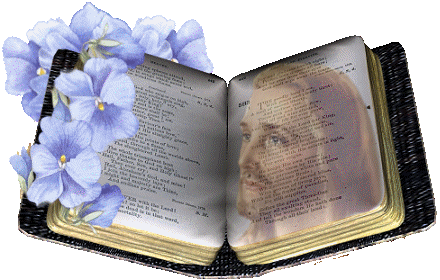 Hello Friends,
Today I come with a teaching on the "WORD".As it was written in
John 1:
1In the beginning was the Word, and the Word was with God, and the Word was God.
2The same was in the beginning with God.
3All things were made by him; and without him was not any thing made that was made.
The bible tells us the sower sows the word in Mark 4:14
Jesus was the seed of David.Nothing is birthed without a seed but a seed must die first in order to bring forth fruit.Jesus being called the firstfruits.When we are born in the natural there is a vaccum place in our hearts reserved for Jesus to be planted in.As God used the word to create all things we too now have been given dominion to do the same,we are creative beings by what we speak out.The next time you are in the word, look at how many times it refers to speak out,spoke,said...etc
Therefore as it is written in Rom.10:9-11 (WE MUST SPEAK OUT)
9That if thou shalt confess with thy mouth the Lord Jesus, and shalt believe in thine heart that God hath raised him from the dead, thou shalt be saved.
10For with the heart man believeth unto righteousness; and with the mouth confession is made unto salvation.
11For the scripture saith, Whosoever believeth on him shall not be ashamed.
Many try to fill this empty space with things of this world,both in stuff,and in other people and relationship but without Jesus planted in your heart the void will remain.You will never be complete for our Creator has designed you for this as to when you got old enough to give Him your will then He in return gives you something far better than this world has to offer and that is Jesus in you,the hope of glory.
Rom.13:13-14
Romans 13:13-14 (Amplified Bible)
13Let us live and conduct ourselves honorably and becomingly as in the [open light of] day, not in reveling (carousing) and drunkenness, not in immorality and debauchery (sensuality and licentiousness), not in quarreling and jealousy.
14But clothe yourself with the Lord Jesus Christ (the Messiah), and make no provision for [indulging] the flesh [put a stop to thinking about the evil cravings of your physical nature] to [gratify its] desires (lusts).
2 Corinthians 4
1Therefore seeing we have this ministry, as we have received mercy, we faint not;
2But have renounced the hidden things of dishonesty, not walking in craftiness, nor handling the word of God deceitfully; but by manifestation of the truth commending ourselves to every man's conscience in the sight of God.
3But if our gospel be hid, it is hid to them that are lost:
4In whom the god of this world hath blinded the minds of them which believe not, lest the light of the glorious gospel of Christ, who is the image of God, should shine unto them.
5For we preach not ourselves, but Christ Jesus the Lord; and ourselves your servants for Jesus' sake.
6For God, who commanded the light to shine out of darkness, hath shined in our hearts, to give the light of the knowledge of the glory of God in the face of Jesus Christ.
7But we have this treasure in earthen vessels, that the excellency of the power may be of God, and not of us.
8We are troubled on every side, yet not distressed; we are perplexed, but not in despair;
9Persecuted, but not forsaken; cast down, but not destroyed;
10Always bearing about in the body the dying of the Lord Jesus, that the life also of Jesus might be made manifest in our body.
11For we which live are always delivered unto death for Jesus' sake, that the life also of Jesus might be made manifest in our mortal flesh.
12So then death worketh in us, but life in you.
13We having the same spirit of faith, according as it is written, I believed, and therefore have I spoken; we also believe, and therefore speak;
14Knowing that he which raised up the Lord Jesus shall raise up us also by Jesus, and shall present us with you.
15For all things are for your sakes, that the abundant grace might through the thanksgiving of many redound to the glory of God.
16For which cause we faint not; but though our outward man perish, yet the inward man is renewed day by day.
17For our light affliction, which is but for a moment, worketh for us a far more exceeding and eternal weight of glory;
18While we look not at the things which are seen, but at the things which are not seen: for the things which are seen are temporal; but the things which are not seen are eternal.
In the natural we are born with a body,spirit,and soul.To be born again is to except Jesus as your Lord and Savior.(As it says in James be a doer of the word,not a hearer only. )And when you truly except Him wholeheartedly He comes to dwell in your heart.Many have seen the pic of Jesus knocking at the door,that is your heart's door waiting to be invited in.As you feed on God's word your spirit is regenerated .Daily you are being renewed,the born again experience is a process.Even seasoned christians are still be renewed day by day,taught day by day, the holy spirit revealing to them the mysteries of the word.Old things pass away,all things become new.Man shall not live by bread alone but by every word that is breathed out of the mouth of God.UNLESS YOU FEED YOUR SPIRIT MAN ,YOU WILL BE SPIRITUALLY DEAD. The Holy Spirit has to be fed as you would not deprive your physical body of food,unless fasting which is another sermon :-) then you can't expect to be in God's will fully and receiving all the benefits of being a child of God if you are not walking in His will for your life.This IS Christ in you the hope of glory.
I will end this teaching by saying it will be in more than one part. As to keep the readers attention. May HIS word bless you and grow you into the fulness of Christ Jesus ,daily walking in His will and purpose for your life.
Lovingly In Christ ; Pastor Linda Begley