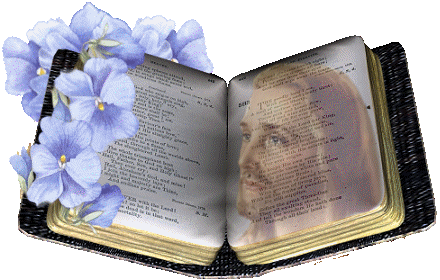 Part 3 "The Word Became Flesh"


Hello Friends, Welcome back to the 3rd pt. of this teaching.
For Jesus said if you love me you'll obey my commandments.
As it is written in Matt.22:37-39
37Jesus said unto him, Thou shalt love the Lord thy
God with all thy heart, and with all thy soul, and with all thy mind.
38This is the first and great commandment.
39And the second is like unto it,
Thou shalt love thy neighbour as thyself.
40On these two commandments hang
all the law and the prophets.
***************************************************
Which by perfecting the love commandment all other
commandments will be obeyed for even faith worketh by love.
Prov.10:12
Hatred stirreth up strifes: but love covereth all sins.
Galations 5:5-7
5For we through the Spirit wait for the hope of righteousness by faith.
6For in Jesus Christ neither circumcision availeth any thing,
nor uncircumcision; but faith which worketh by love.
7Ye did run well; who did hinder you that ye should not obey the truth?
*********************************************
Without faith it is impossible to please God.
Heb.11:6 But without faith it is impossible to please him:
for he that cometh to God must believe that he is,
and that he is a rewarder of them that diligently seek him.
Rom.10:17 Faith cometh by hearing,and hearing by the word of God
As our spirit is regenerated by the word so is our hearing in the natural
renewed to hearing in the spiritual.For to be intuned with the Holy Spirit
is to hear that inner voice as God told us The Holy Spirit shall lead us into all truth.
That reveals things unto us,God's Will and revelation of God's word.
As it says in John 10:4-5
4And when he putteth forth his own sheep, he goeth before them,
and the sheep follow him: for they know his voice.
5And a stranger will they not follow, but will flee from him:
for they know not the voice of strangers.
Jesus said in Luke 6:46 And why call ye me, Lord, Lord,
and do not the things which I say?
"Things" is many times reference to "Words" and as is says in James
Be ye a doer of the word not a hearer only.
We are to USE the word of God as Jesus did,for He was the spoken Word
from the very foundation of earth that created all things and without
Him nothing was created as it is written in John 1:1:1-3
1In the beginning was the Word, and the Word was with God, and the Word was God.
2The same was in the beginning with God.
3All things were made by him; and without him was not any thing made that was made.
Matt.7:
21Not every one that saith unto me, Lord, Lord,
shall enter into the kingdom of heaven;
but he that doeth the will of my Father which is in heaven.
22Many will say to me in that day, Lord, Lord, have we not
prophesied in thy name? and in thy name have cast out devils?
and in thy name done many wonderful works?
23And then will I profess unto them, I never knew you:
depart from me, ye that work iniquity.
After you make Jesus Lord of your life as it is stated in Rom.10:9-11
9That if thou shalt confess with thy mouth the Lord Jesus, and shalt believe in thine heart that God hath raised him from the dead, thou shalt be saved.
10For with the heart man believeth unto righteousness;
and with the mouth confession is made unto salvation.
11For the scripture saith, Whosoever believeth on him shall not be ashamed.
The TRUTH SHALL MAKE YOU FREE...As in John 8:32
32And ye shall know the truth, and the truth shall make you free.
But We must take heed to all "Things" the "Word" of God
And as it is written in Matt.6:33 But seek ye first the kingdom of God,
and his righteousness; and all these things shall be added unto you.
We are the workmanship of Christ,to use His word to build of kingdom of God.
We were given dominion and authority by using His word to establish His purpose.
By diligently seeking ,mysteries will be revealed.
THE KEY HERE IS....
Joshua 1:8 8This book of the law shall not depart out of thy mouth;
but thou shalt meditate therein day and night, that thou mayest
observe to do according to all that is written therein:
for then thou shalt make thy way prosperous,
and then thou shalt have good success.
ALSO.....For the body of Christ/The Church to DO As it is written
in 2 Chronicles 7:14 If my people, which are called by my name,
shall humble themselves, and pray, and seek my face,
and turn from their wicked ways; then will I hear from heaven,
and will forgive their sin, and will heal their land.
Luke 24:44 And he said unto them,
These are the words which I spake unto you,
while I was yet with you, that all things must be fulfilled,
which were written in the law of Moses, and in the prophets,
and in the psalms, concerning me.

This concludes this teaching,thank-you for taking time
and I pray that you will be strengthened and encouraged
to allow the Word to manifest in your life.
God bless you!
In His Service; Pastor Linda Begley